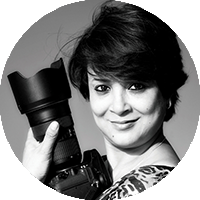 Moushumee is an accomplished photo artist whose sensitive frames capturing people, culture, and street life have been appreciated byphotographers, designers and creative professionals . Starting herartistic journey as an actress/ Anchor (Theatre,TV, Cinema, Stage and had been a popularpersona in the entertainment world), She became familiar with the language of camera and nuances of light and shade, frame angles and developed a unique ability and sense of story-telling with her Composition and medium. She brings these experiences as well as her deeply artistic and rich cultural training to herphotographyand has been contributing in bringing out the untold stories of the human spirit to the mainstream viewers.
Moushumee has executed commissioned projects for Tourism( ASSAMTourism Development Corporation, 2012- present), Central Department of Small Scale Industries, Department Of Handloom and Sericulture, Ministry Of Familyand Social Welfare, architectural and real estates Projects, products, interiors, theme
based personal portfolios. Her Works has been published in various international and national news and entertainmentjournals, magazines, News Papers, Corporate Brochures, and Documentation Archives..
She had been in the panel of judges forvarious photographycompetitions in Delhi, forvarious colleges under University of Delhi,The Delegation of European Union(EU) and their socio economic projects and has been holding workshops for ameture and professional photo artists in Delhi and other cities in India.
Moushumee has authored 3 photo books – "Ananya" Herjourneythru life, in 2010, which was well appreciated by the viewers/readers ,A coffee Table Book "Celebrating Assam At SurajKund"- a Visual Narration, for Assam Tourism in 2012, and"Golf Tourism in Assam- a Tea Table Conversation", For ATDC in 2014. She is currently working on a bookproject- WHITE WIND, on the life of the Widows Of Vrindavan and Benaras.
Exhibitions
January 2007- Charity Group Show, Washington DC May 2009- Group Show, Hide Parkart Centre, Chicago December 2010- Solo Show, Palms Club, Gurgaon
November 2011- Group Show,Arpana Caur Academy Of Fine Arts & Literature, New Delhi April 2012- Group Show,Arpana Caur Academy Of Fine Arts & And Literature, New Delhi February 2011- Solo Show,YWCA, New Delhi
August 2013- Group Show, art@Indianaugust, Noida
March 2015 – Group Show,Arpana Caur Academy Of Fine Arts & Literature, New Delhi May, 2014 – Solo Show, Mavalankar Hall, New Delhi
August, 2016- Photojunction,Arpana Caur Academy Of Fine Arts & And Literature, New Delhi December 2016- Group Show, SERENDIPITYArt Festival, Goa
September 2018- Group Show, Hyderabad Photo Festival