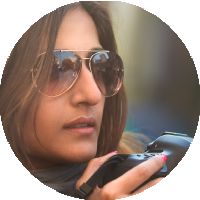 "What I see through my lens is captured forever, it remembers little things long after you have forgotten everything."
Brought up in Mumbai, I was never quite interested in photography but always had a love for travel & a curiosity of places & people. Moving to Hong Kong 15 years ago actually pulled me more towards India & my wanderlust is fairly insatiable.
Travel photography is what inspires me the most … We travel first to lose ourselves , and then to find ourselves ..Having visited most of the South East Asian countries;Cambodia , Thailand , Philippines to name a few ,India still remains my favourite .
I hope you enjoy my insight into the world at large in all its diversity, adding something new to our understanding of a place and the people who live there.After having completed my Masters in Journalism at The University of Hong Kong I'm currently working on documentaries on social issues and I hope I inspire in others a Desire to see the world for themselves and capture moments that they will cherish for life.