The moment we think of Canon's 1D-Series cameras, we usually think of adjectives like "monster", "speed-king" and "mean-machine". It was 2012 when Canon debuted their top of the line professional DSLR, the EOS 1D X and now 4 years later, on the eve of Rio 2016 Summer Olympics, Canon unveiled its another top-of-the-line EOS 1D X Mark II.
Canon seems to have pulled out all stops to position this powerhouse as World's "Only Option Camera" when it comes to speed and performance.
Before embarking upon the thrilling photo journey with this mean machine, lets see what 1D X Mark II is all about:
• 20.2 megapixel, 5472 x 3648px, 35mm Full Frame Canon CMOS sensor
• Extremely fast 14 fps continuous shooting for up to 170 RAW frames, 16 fps in Live View
• 4K 60P and Full HD 120P video with Movie Servo AF via Dual Pixel CMOS sensor
• 4K Frame Grab for 8.8 MP still JPEG images from 60 fps capture
• Improved 61-point High-Density Reticular AF II with expanded coverage
• Up to 61 AF-points supported at f/8 max aperture
• Continuous red illumination of up-to all AF points within the camera's Intelligent Viewfinder II
• Improved AI Servo III+ predictive AF algorithm
• Dual DIGIC 6+ Image Processors
• ISO 100-51200 with expansion down to 50 and up to 409600
• 360,000-pixel RGB+IR metering sensor with enhanced precision and performance
• Flicker Mode adjusts shutter release timing to avoid flickering light issues
• 2″ (8.11cm) Clear View LCD II, approx. 1,620K dot LCD with limited touch capability
• Customizable Quick Control Screen
• Large, bright pentaprism viewfinder with approx. 100% coverage and 0.76x magnification
• Built-in GPS
• Magnesium alloy body with Canon's most dust and weather resistant DSLR design
• Shutter durability rated up to 400,000 cycles
• Distortion Correction, Diffraction Correction and Digital Lens Optimizer available for in-camera aberration correction
• Dual memory card slots supporting one CF (UDMA Mode 7) and one CFast (2.0) memory card
• Super Speed USB 3.0 for high-speed tethering and image/movie transfer, Gigabit Ethernet support
• New Wireless File Transmitter WFT-E8
• New LP-E19 Batter Pack with LP-E4N and LP-E4 compatibility
Handling
Professionals need to be able to switch over to new cameras with utmost ease. And 1D X Mark II does that transition easy with its body layout and design similar to its predecessor 1D X. Since this camera is designed keeping in mind high speed sports shooting situations, its worth mentioning the Custom control: OneShot<–>AI Servo and AF<–>. There is a separate button assigned to quickly switch through AF Modes making life a lot easier for Sports Photographer.
Sensor and Processor
The 1D X Mark II sports a new Sensor with marginal increase in resolution over its predecessor. While 1D X had 18 MP, Mark II has 20.2 Megapixel. And this coupled with all new faster DIGIC 6+ Processor can dish out full resolution images at the speed of 14 FPS (with auto Exposure and Predictive Auto Focus). This speed can be pushed even farther up to 16 FPS when using live view. This translated to almost unlimited JPEGs and upto 170 RAW files in single burst.
This new Sensor and Processor combination offers much-improved ISO capabilities. It offers better shadow details at higher ISOs.
Faster Focusing
Canon's 1D Series is known for top-notch auto focus performance and Mark II goes even further. I have always been saying that and let me repeat it here as well about the importance of good focusing system. You may buy the best of the camera and lens combination but if your image is out of focus, it's not going to work. And when we talk about Sports/Action/Wildlife photography, this becomes all the more critical. Though at first glance the AF System with 61-point AF system may look similar to its predecessor, but Canon has made many changes to ensure the AF system matches up with the high speed shooting to give top-notch shots. Canon has:
• Expanded the AF Point coverage Area
• Increased the sensitivity of central AF point to -3EV
• Has featured a new and improved AI Servo AF III+ predictive autofocus Algorithm
These features offer improved precision and better tracking performance even for erratically fast moving subjects.
In-Camera RAW Processing
This new feature is worthy of a mention here. Canon for the first time ever has introduced a built-in Digital Lens Optimizer function. With this a photographer can now apply lens-specific diffraction compensation, chromatic aberration correction, distortion correction and peripheral illumination correction; all within camera. Now this may look small but ask any News and/or Sports photographer who has to almost immediately transfer final images for review and printing in Newspapers and magazines. It certainly saves a lot of time for the professional photographer.
The C-Fast Technology
Given the high demand for faster saving technology, the Memory Card technology is witnessing a key change. This is in line with faster shooting speeds getting introduced with every new camera model launch. 1D X Mark II features the introduction of new Card Slot, which will house all new CFast 2.0 Card. With this card the Mark II has an unlimited buffer capacity for JPEG files, however for RAW, the buffer speed is 170 shots as compared to 73 shots of UDMA 7 CF Card. The only problem that I see with using two different card slots lying adjacent to each other is trying to force a wrong card in the slot which may delay the card changing process and may even damage the card/slot.
4K Video
Keeping in view of the demand from Videographers to keep improving video capabilities of DSLR, Canon has for the first time introduced a 4k video in a DSLR. 1D X Mark II can shoot 4K video at 30fps and 60fps. This means that you can now record smooth 2x slow motion footage at 4k resolution.
Hits
• Dual Pixel CMOS AF Technology for faster and smoother live-view and video Auto Focus.
• 4K video capability with 60 fps
• Rear Microphone and dedicated voice recorder button
• Shooting at 14 fps
• Touch Screen
• GPS
• Digital Lens Optimiser
Misses
• No WiFi. However one can use WFT-E8 Wireless file transmitter for that.
• No cropped sensor options available as they were in 5DS series
• Still no Stereo MIC
My Verdict
EOS 1D X Mark II is directly targeted at sports, fast action, wildlife, weddings, events, reportage etc. where speed and reliability are extremely important. And it does full justice in these departments. If you are 1D X user and looking for an upgrade, go ahead. It will worth the upgrade and will in fact exceed your expectations.
With EOS 1D X Mark II Canon has taken a leap with providing the best possible option for Action and Sports Photographers that offers phenomenal auto focus system and excellent high ISO performance.
When I tested this camera I decided to focus on Performance Art and Fashion Photography and the end result was remarkable.
All in all, it's a winner from Canon stable and delivers quality in line with its "flagship- level" placement.
Post by: Jassi Oberai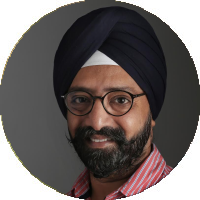 Jasminder is a Photo Mentor. He is self taught photographer. Though he saw his father pursuing his hobby of photography very seriously and very closely witnessed the dark room secrets, his love for the craft started very late but when it did there was no looking back. As a photographer he does not restrict himself to any particular genre of photography. He likes to shoot mostly anything. He likes the challenge of shooting landscape one day to close up the next and dabbling with portraiture the day after. He loves nature and great use of colors. So in most of his photographs you will see wide use of vibrant colors. In his own words, "Colors can give a whole new look to something rather mundane or something we are used to. To me that's what I like the most about photography – looking at the world in new ways."
---